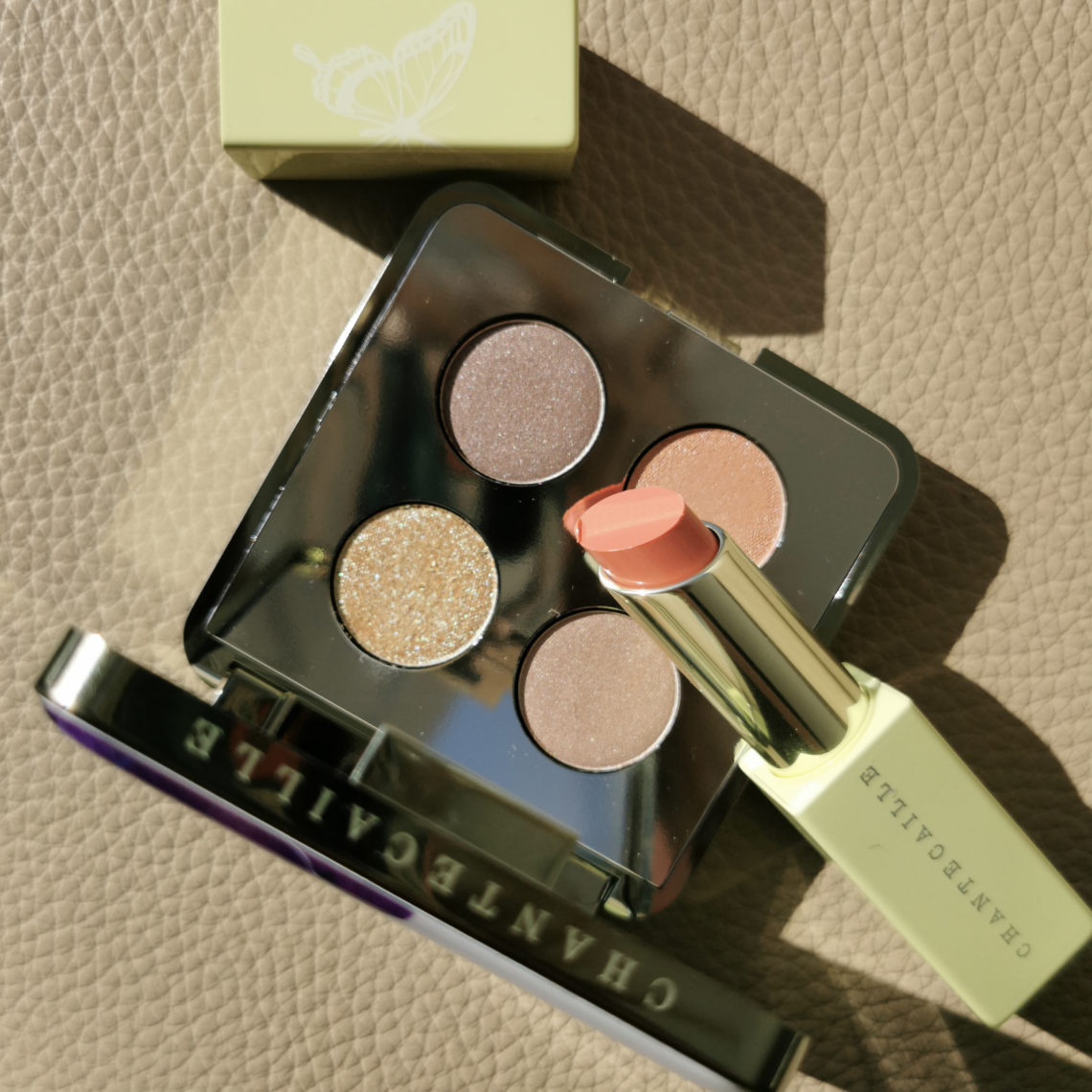 Chantecaille Butterfly Eye Quartet: review and swatches
Chantecaille is known not just for the philanthropy causes the brand supports and the high quality of make-up products, but also for the beautiful packaging it comes in. For Spring 2021 Chantecaille has released a butterfly-themed collection (supporting protection of butterflies through Xerces Society and their Pollinator Program). Keep on reading for my thoughts on Chantecaille Butterfly Eye Quartet and swatches.
Disclaimer: this product was purchased by me and all opinions are my own. The site uses affiliate banners and affiliate links (marked AF) which add no extra cost to you if you choose to shop through them. Thank you for supporting the site if you choose to use AF links.
Packaging
The packaging of the quad was the first thing that caught my attention. The butterfly image on top of the case looks stunning and well-made. It is simply a joy to use and enhances the make-up experience. The case closes with a click and has a mirror inside.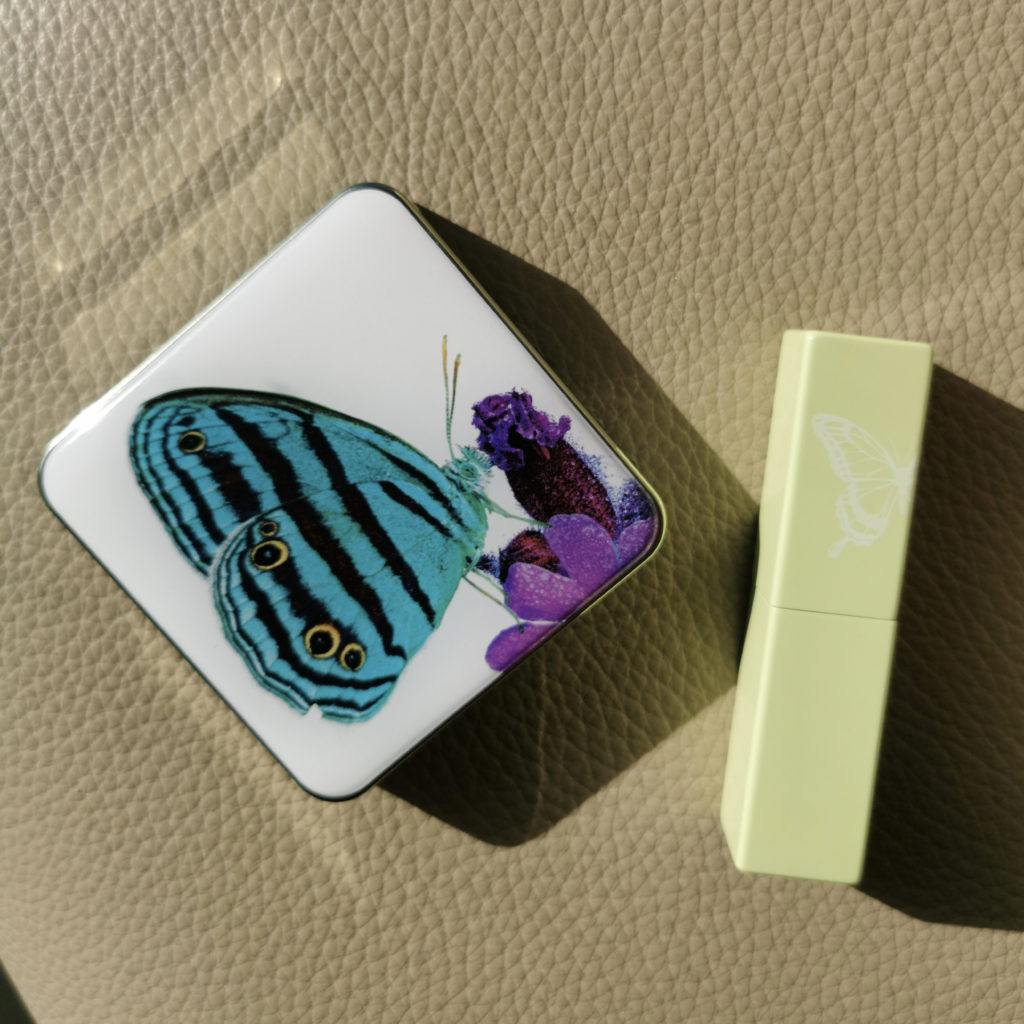 The quad contains only 2g. of eyeshadow, which is significantly less than in similar offerings from luxury brands. I personally have no problem with this as my eyeshadow collection is relatively big and I hardly ever hit a pan on any shades, but if you are planning to use it daily, take that into consideration.
Texture
Chantecaille eyeshadows in this quad (similar to last year's) are one of the softest and silkiest I've ever tried. You can see how finely-milled the pigment is on the swatches below. It just melts into the skin.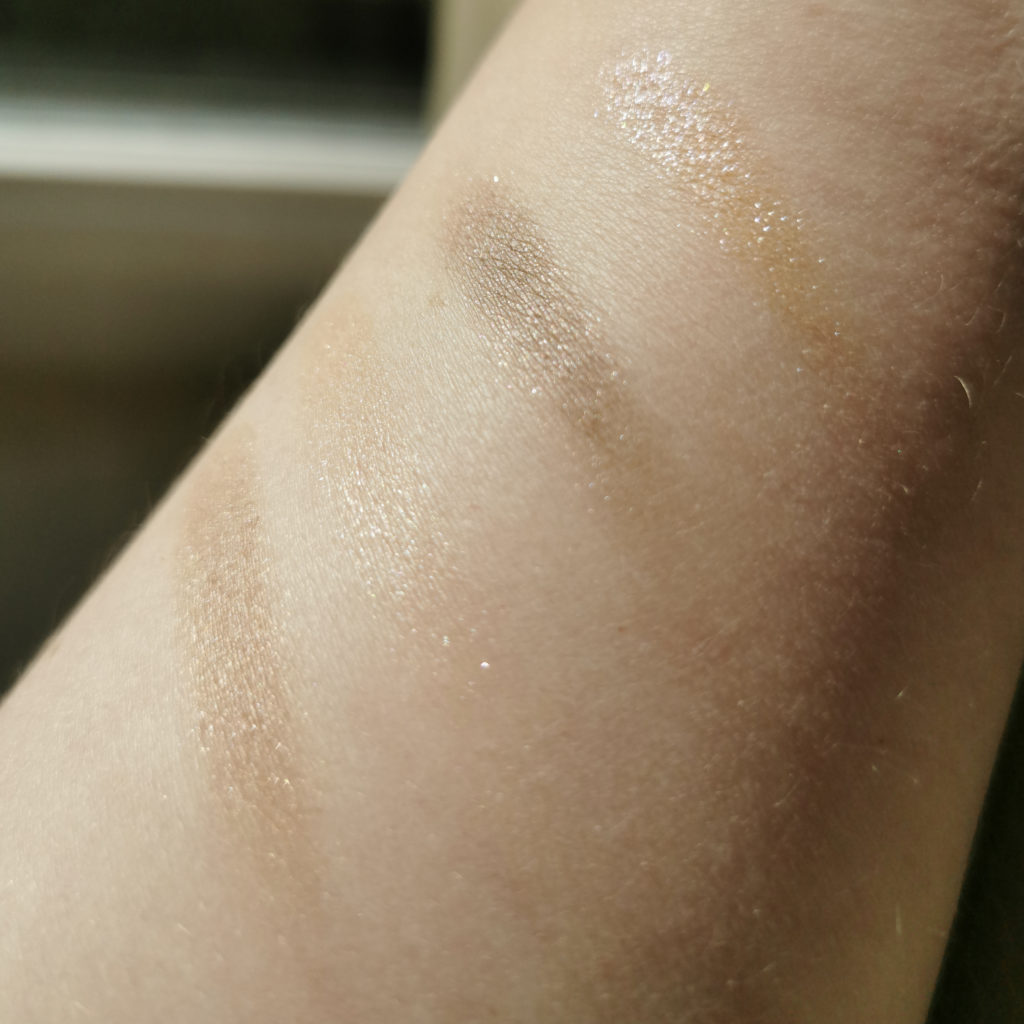 The eyeshadows blend seamlessly and easily, so even if you have little experience with eye make-up, it will look good.
There is also no fallout from the application. The eyeshadows wear all day on me (with Nars eyeshadow primer (AF)) with no creasing and no fallout. After about 8-9 hours the topper shade partially faded, but the shimmer shades underneath stayed on. Even after fading, there was no fallout.
Colour scheme
Chantecaille website (AF) describes the shades as following:
Shade One: A taupe with a satin finish
Shade Two: A triple chrome with pink, green, and gold pearls
Shade Three: A shimmering peach
Shade Four: A rose gold with a satin finish
The colours are soft, so don't expect achieving a super-bright look with those. Chantecaille esthetic is subtle sophisticated make-up, so it perfectly fits into that category.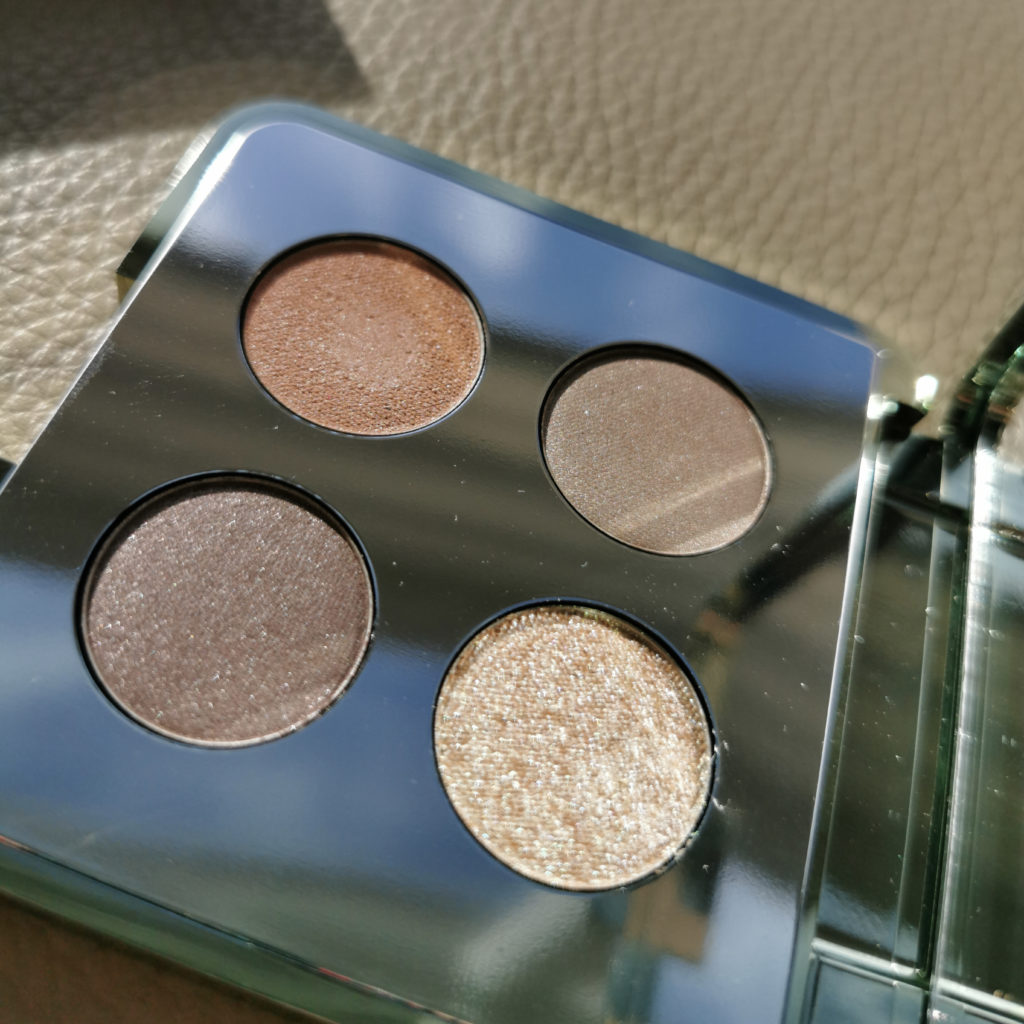 The peach shade is very light and barely shows up on me. The rose gold (which seems more of a medium beige in real life) and the taupe shade look very neutral and, although different on the swatches, quite similar on the lid, with taupe shade being a bit darker.
The trio-chrome looks more like a duo-chrome to me – I see only the shift from gold to green. When I look straight into the mirror it is green and more gold from the angle. Under a certain light and angle I've managed to see pink, but, honestly, If I hadn't read the description I wouldn't known it's there.
You can see Chantecaille Butterfly quad (AF) swatches in different light below. I've applied one swipe with fingers using the dry method. It is quite close to what I see on the lids in real life.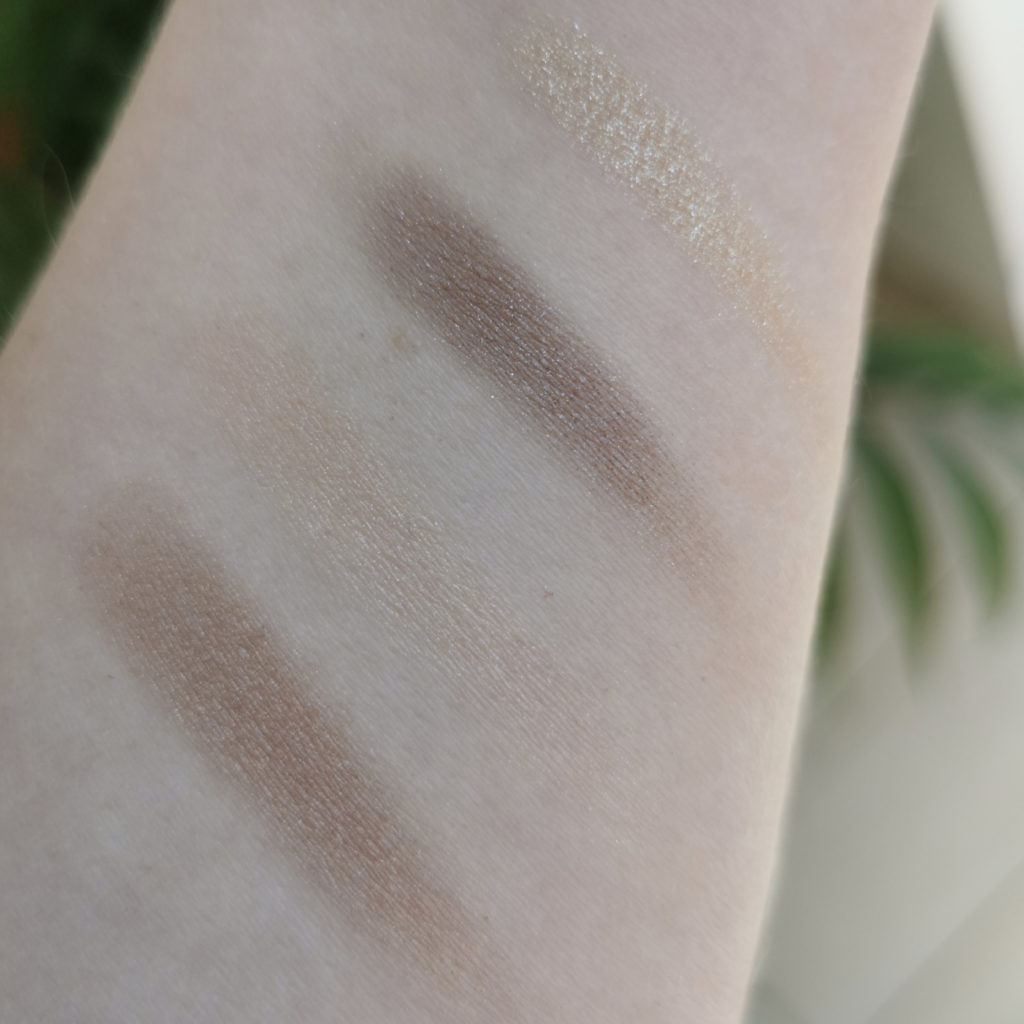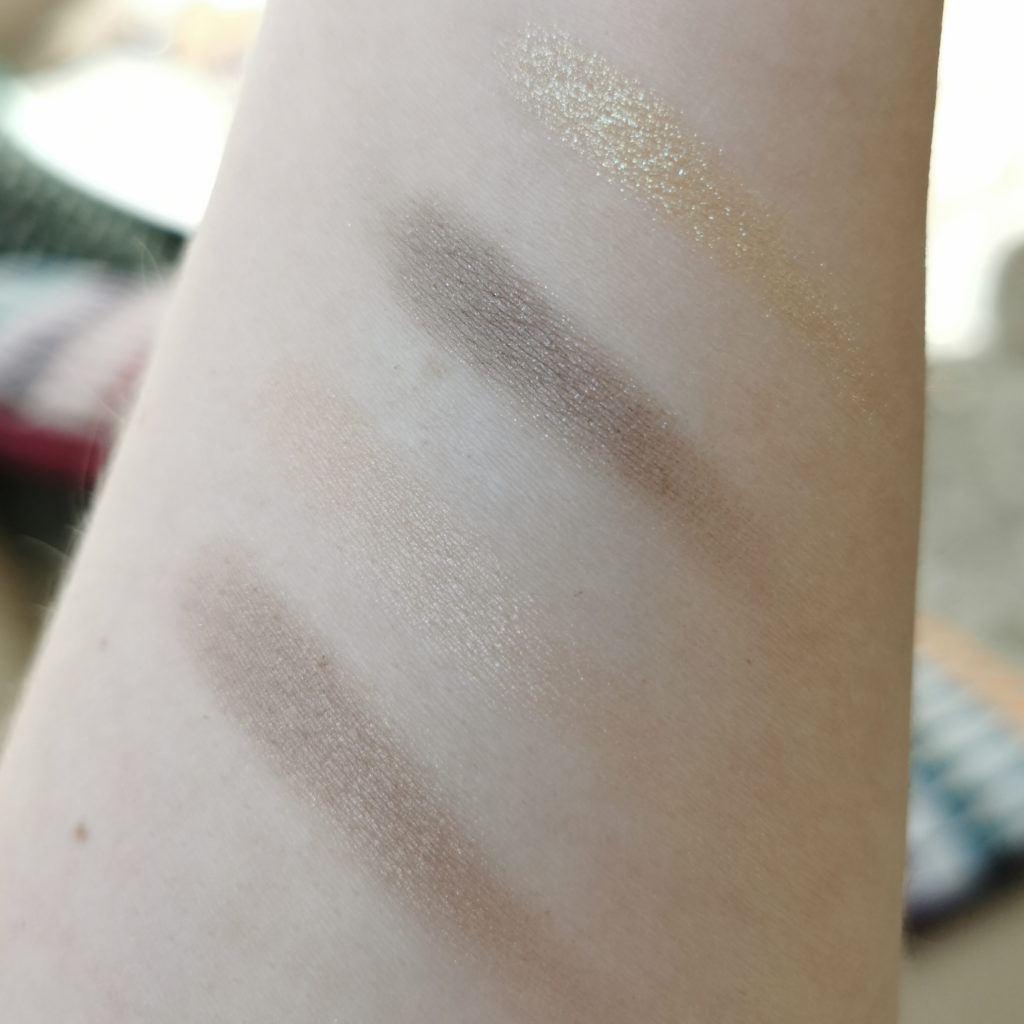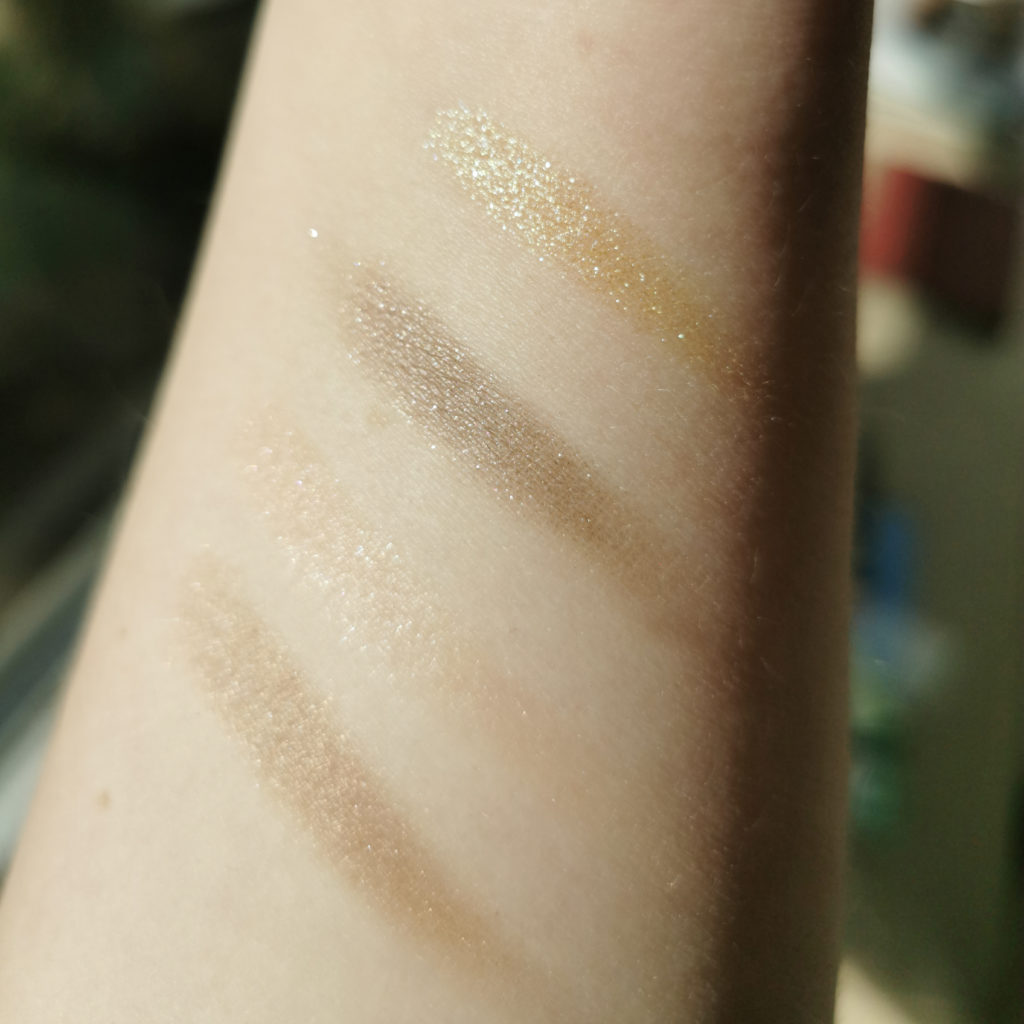 Finish
There are three shimmers and one trio-chrome topper. The shimmers are quite delicate and would look appropriate in many situations. Using the chrome shade gives a beautiful look to the eyes, spring-like, indeed. However, the effect is still more subtle than from Pat McGrath or Natasha Denona eyeshadows.
I always have a problem capturing the beauty of those shadows on camera: the overall look is captivating and lovely, but it's soft, so might not translate fully into photos. These look so much better and brighter in real life.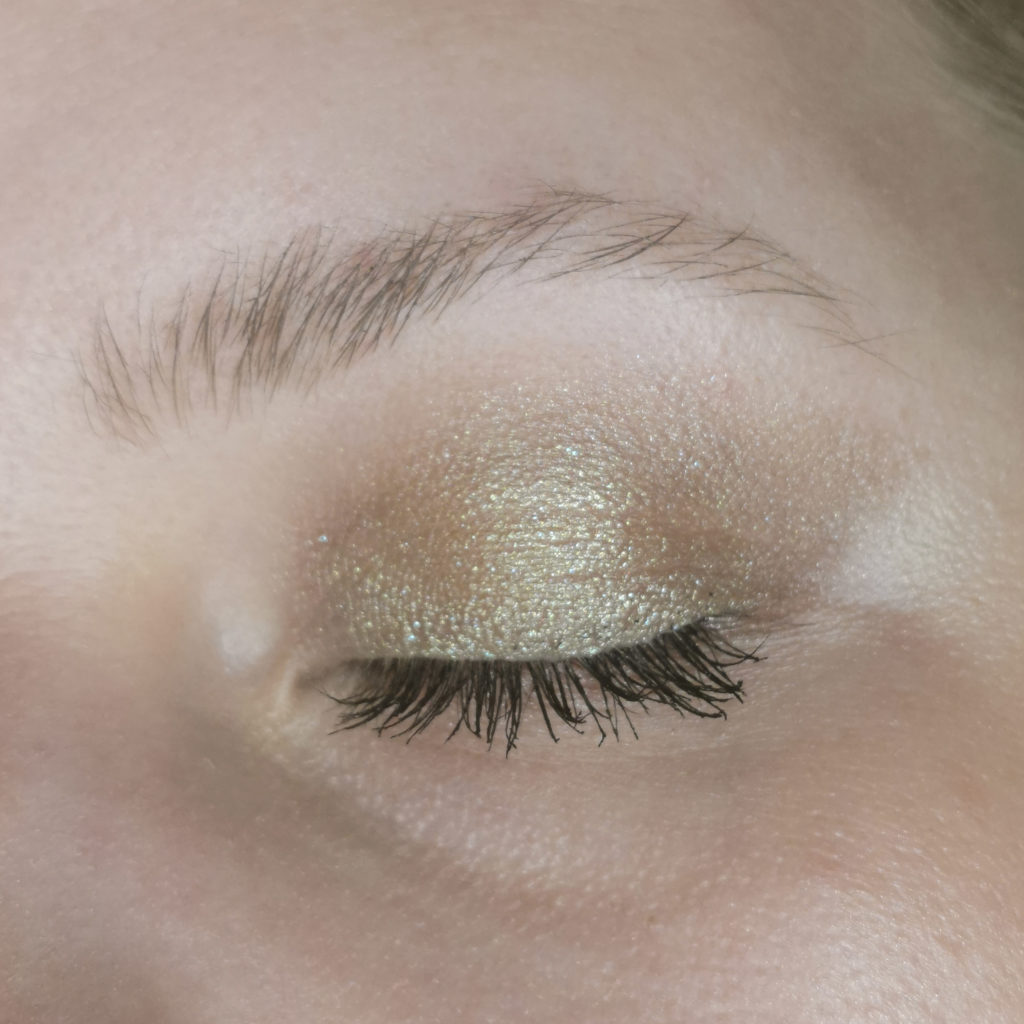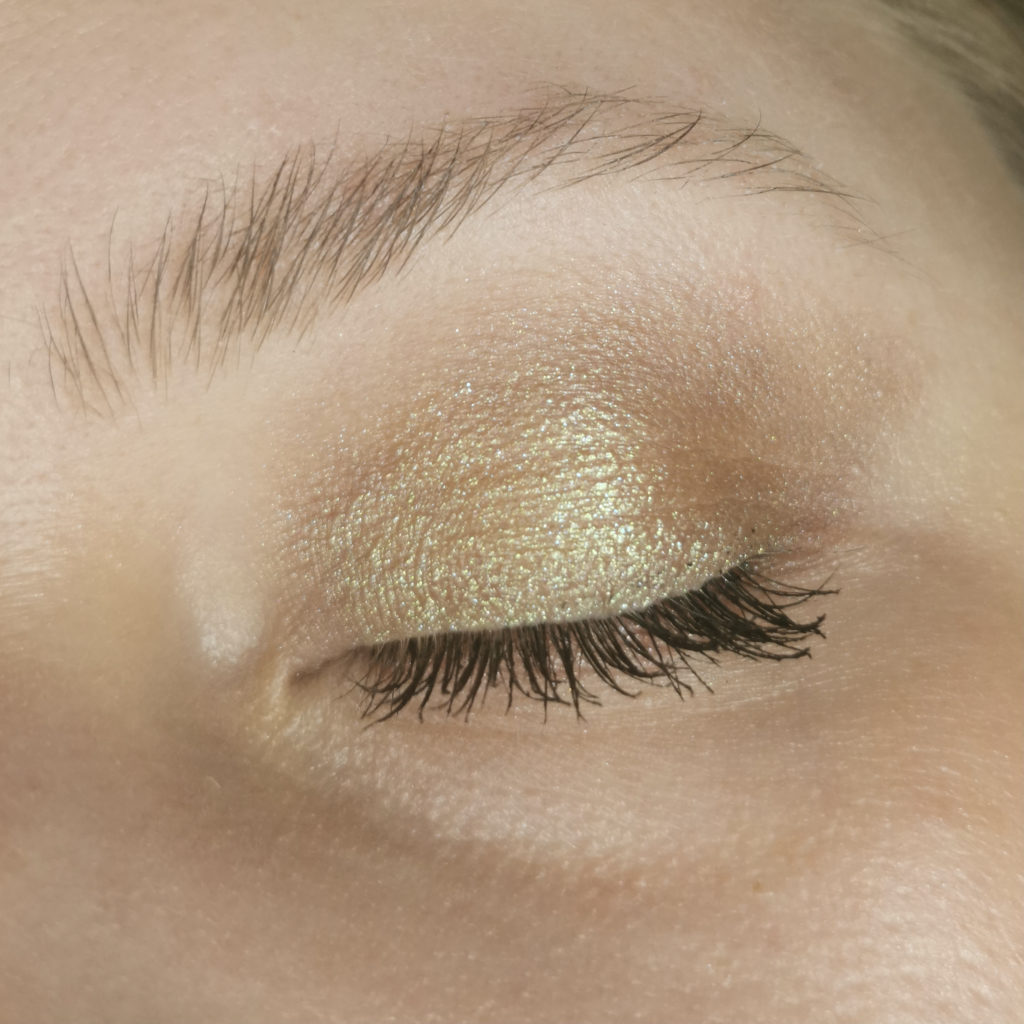 I've used taupe on the lower lashline and in the crease, rose gold all over the lid, followed by the chrome shade on top (I used fingers to apply it), peach in the inner corner.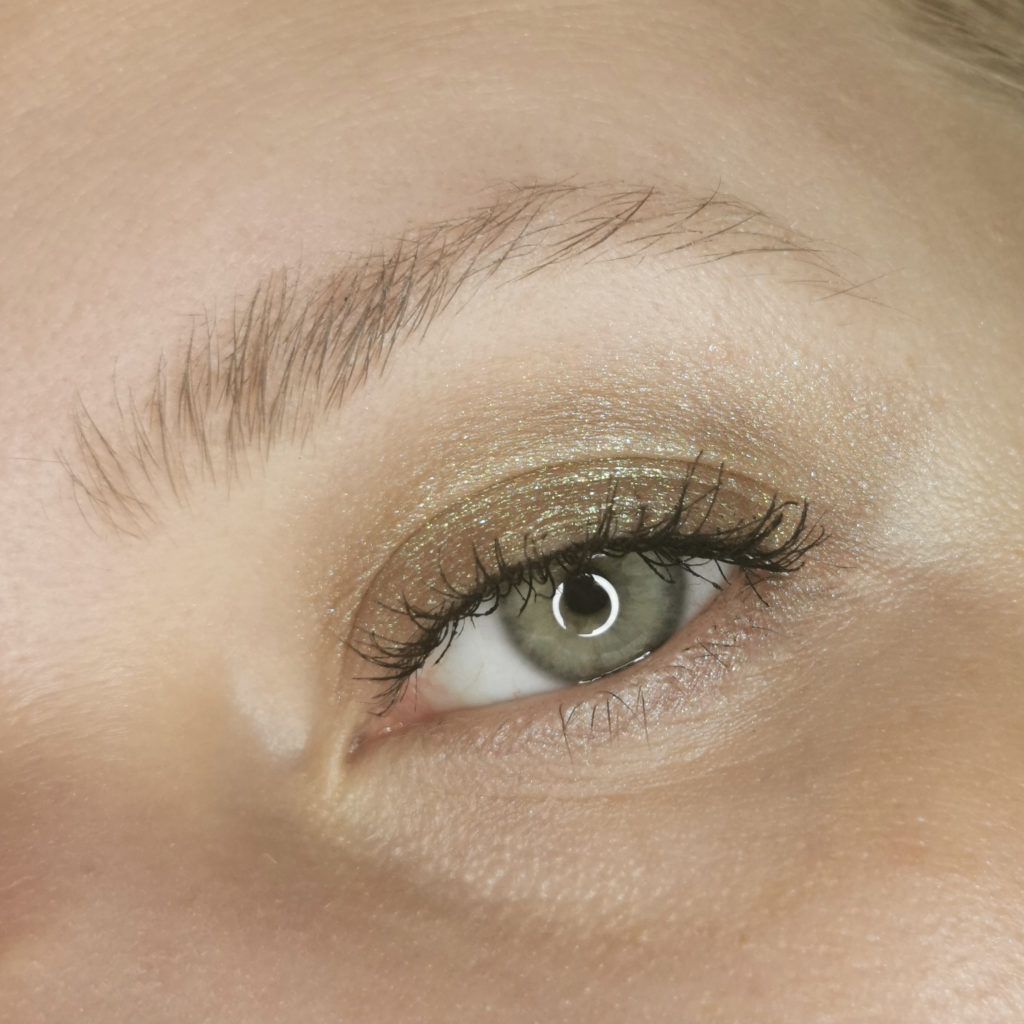 Overall impression
There is no escape from the fact the Chantecaille Butterfly palette (AF) is an expensive product, especially when you take into account the weight of eyeshadows you get. It seems even more expensive if you only buying it for the one trio-chrome shade. The other three shades are there to complete the look and while they feel superbly silky on the lids and you can do a soft look only using three, the colours and pigmentation can be duped.
Unfortunately, the official site hasn't got swatches on the models with different skin tones and the only promotional image features a fair model. I would expect more diversity and inclusivity from a brand with a global audience.
Unlike with Hummingbird Cool palette released last year, I wouldn't feel comfortable wearing the trio-chrome shade to an office with a conservative dress code. I also think that Hummingbird Cool has more variety in shade depth and therefore allowed to create more looks.
However, If budget is no concern and you would like to introduce something fun into your looks but not quite ready for full-on Pat McGrath or Natasha Denona multi-chrome shades, the Chantecaille Butterfly quad (AF) is a good place to start. It's a beautiful look for spring and summer not to mention the magnificent packaging it comes in and the environmental support the brand does.
Shop the post (AF)

If you like shimmery neutral eye looks, check out my review of the Tom Ford Nude Dip palette.
Click the link to follow me on Bloglovin'!