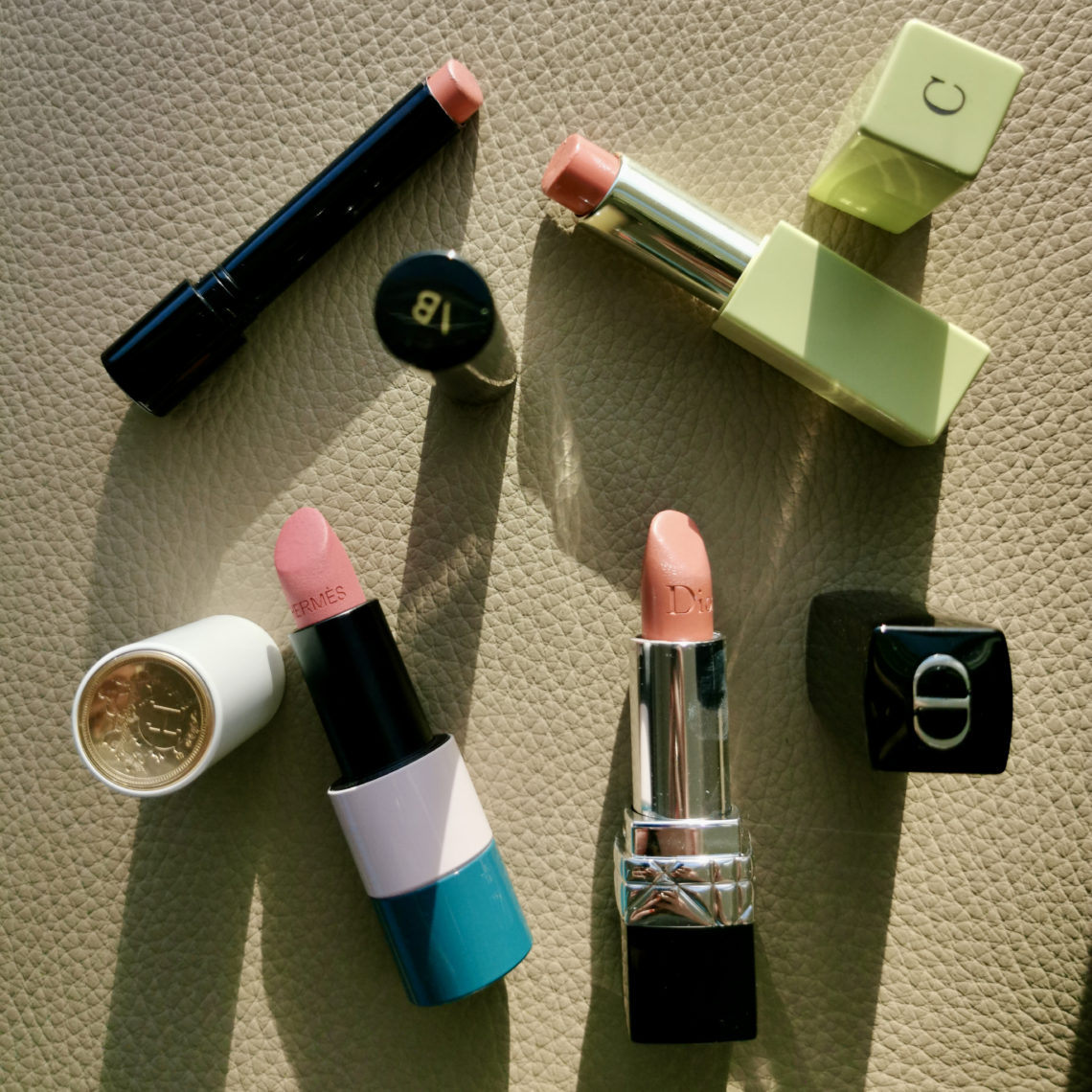 Current favourite nude lipsticks
With the pandemics and mask-wearing, I've started to focus more on eye make-up (hence so many eyeshadow reviews on this blog) and nude lipsticks. I love a good red lip and was wearing a lot of bright lipsticks in January around the house when I needed a bit of bright colour to lift my mood. However, as the weather improves and I spend more time outside I use more nude lipsticks: less to worry about if I wear a mask on and off. Keep on reading for my nude lipstick selection for this spring and comparison review.
Disclaimer: these products were purchased by me and all opinions are my own. The site uses affiliate banners and affiliate links (marked AF) which add no extra cost to you if you choose to shop through them. Thank you for supporting the site if you choose to use AF links.
Products
The four nude lipsticks I'm currently using most of the time are:
Why four (apart from the fact I love to shop for lipstick)? They do vary in finish and colour, so I can choose the best suited for different looks. Keep on reading for the swatches and comparison.
Packaging
All four lipsticks have beautiful packaging. Hermès and Chantecaille have the most weight to it and both close magnetically (maybe that's where the weight comes from). Victoria Beckham and Dior close with a click. I love that both Hermès and Dior are refillable and wish more lipsticks would come like this.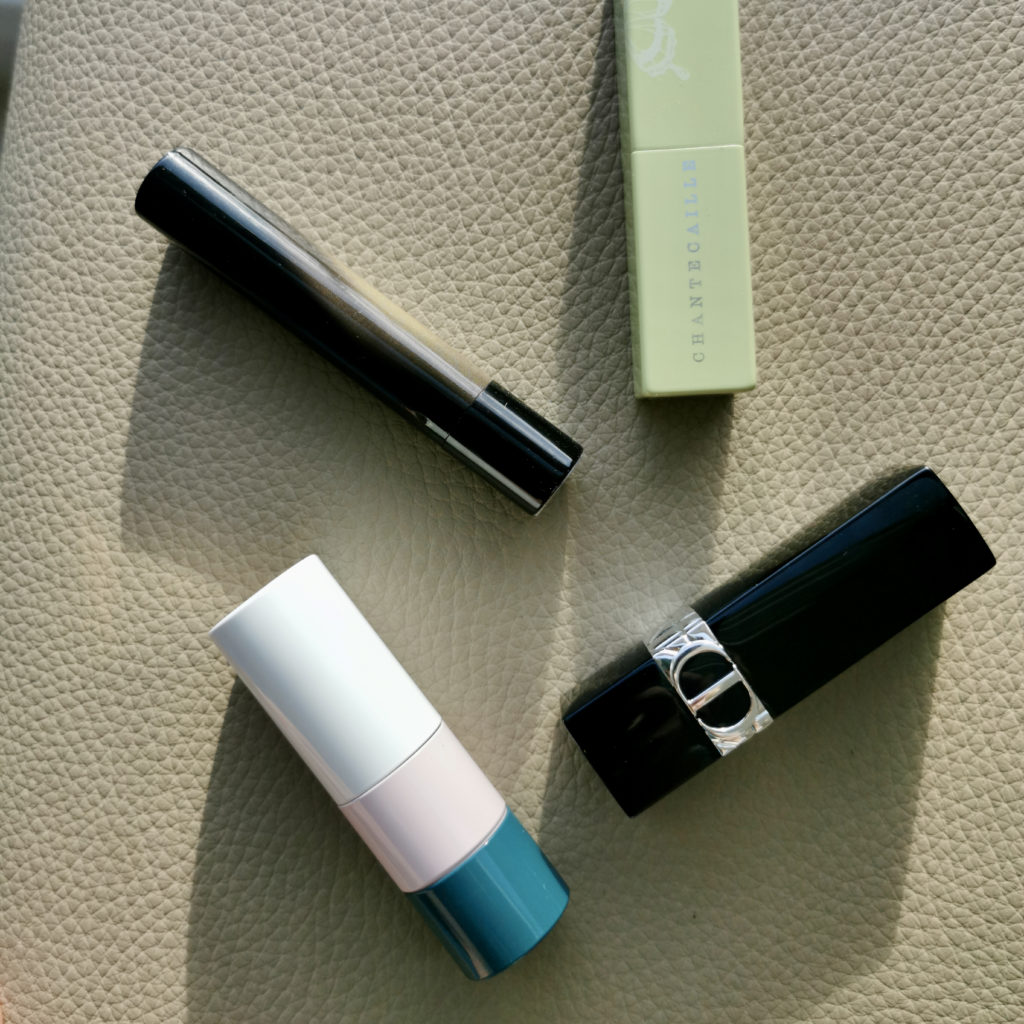 Colour scheme
On the swatches below you can see how the colours range from pink to peach. Victoria Beckham and Dior are somewhere in between and look more neutral. I'm wondering why Dior decided to name this shade Pink Sakura when it's clearly more peach than pink ?.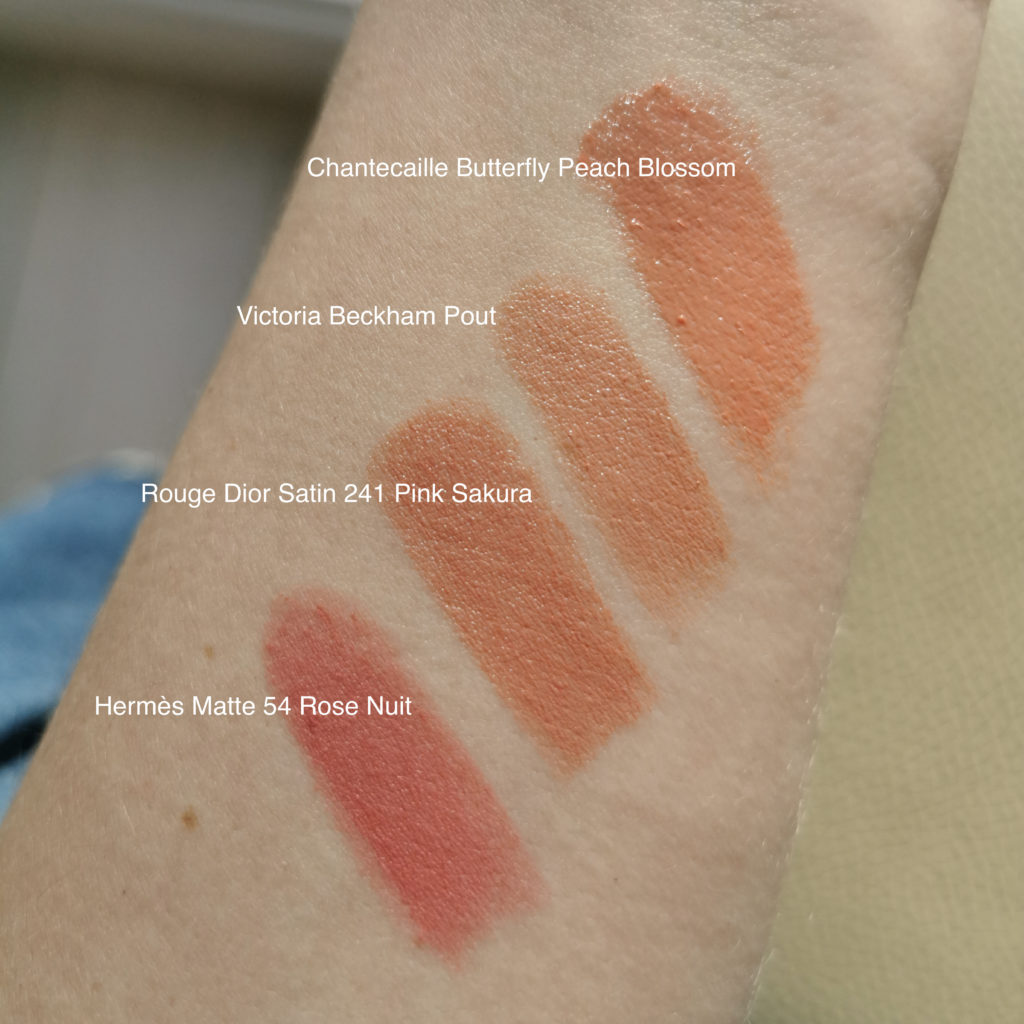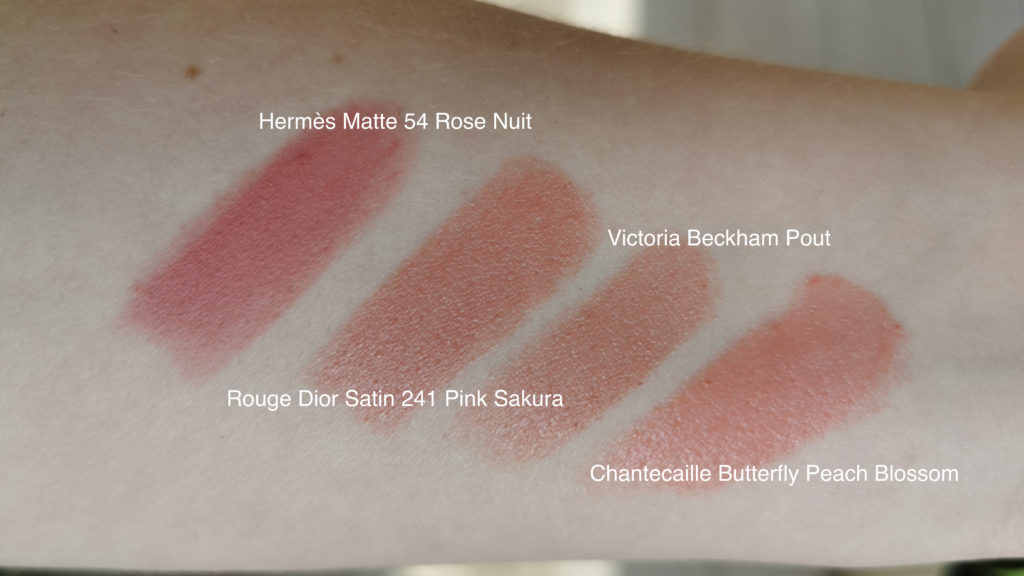 Finish
On the swatches below I've positioned them from most matte to balm. While Hermès lipstick is part of their matte range, it's not a full-on drying matte, more of a powder veil on your lips. If you apply it straight from the bullet you get more full coverage. Alternatively, you can just pat it with a finger and then the pigment merges with your lip colour and looks like your lips but better.
Chantecaille is the balmiest and glossiest of four. It also has the softest texture of them all. It is the most hydrating and quickly heals dry lips.
VB is slightly less balmy and a sheerest of four.
Dior is somewhere in the middle. It has a classic satin lipstick texture that feels very hydrating on the lips as the old iteration of this range. At the same time, the formula feels lighter than the previous one. I find the bullet gets a bit softer with use.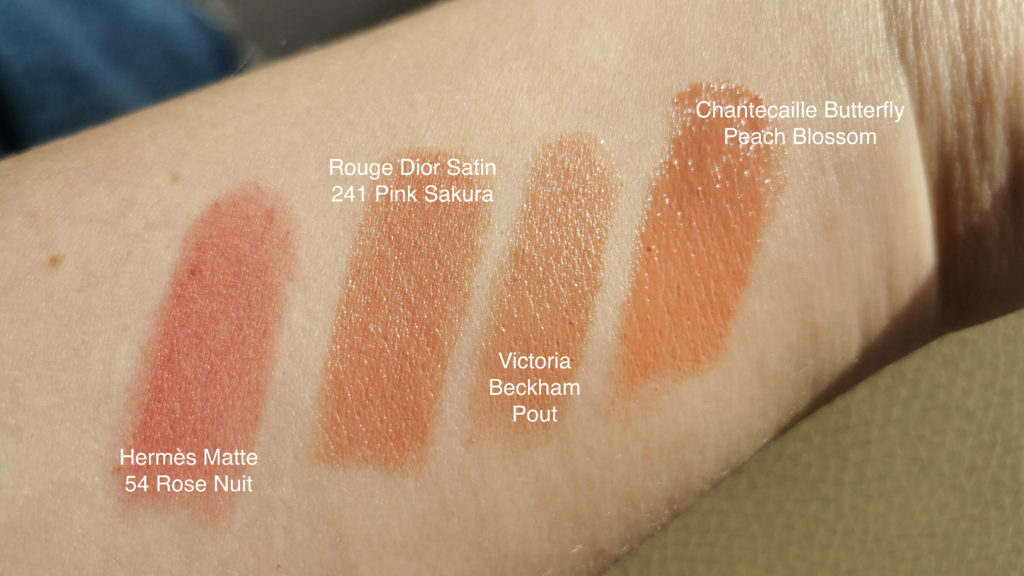 Scent
Hermès has a slight scent to it (reminds me of a fresh rose), but it doesn't last long on the lips.
Dior is unscented as far as I can tell. The old formula had a retro lipstick scent. However, some of the reviews of the permanent shades mention the scent, only it became lighter. Maybe that's the specifics of this shade from a spring collection.
Victoria Beckham Pout is also unscented.
Chantecaille lipstick has a vanilla scent (similar to MAC lipsticks), lingers a bit on the lips.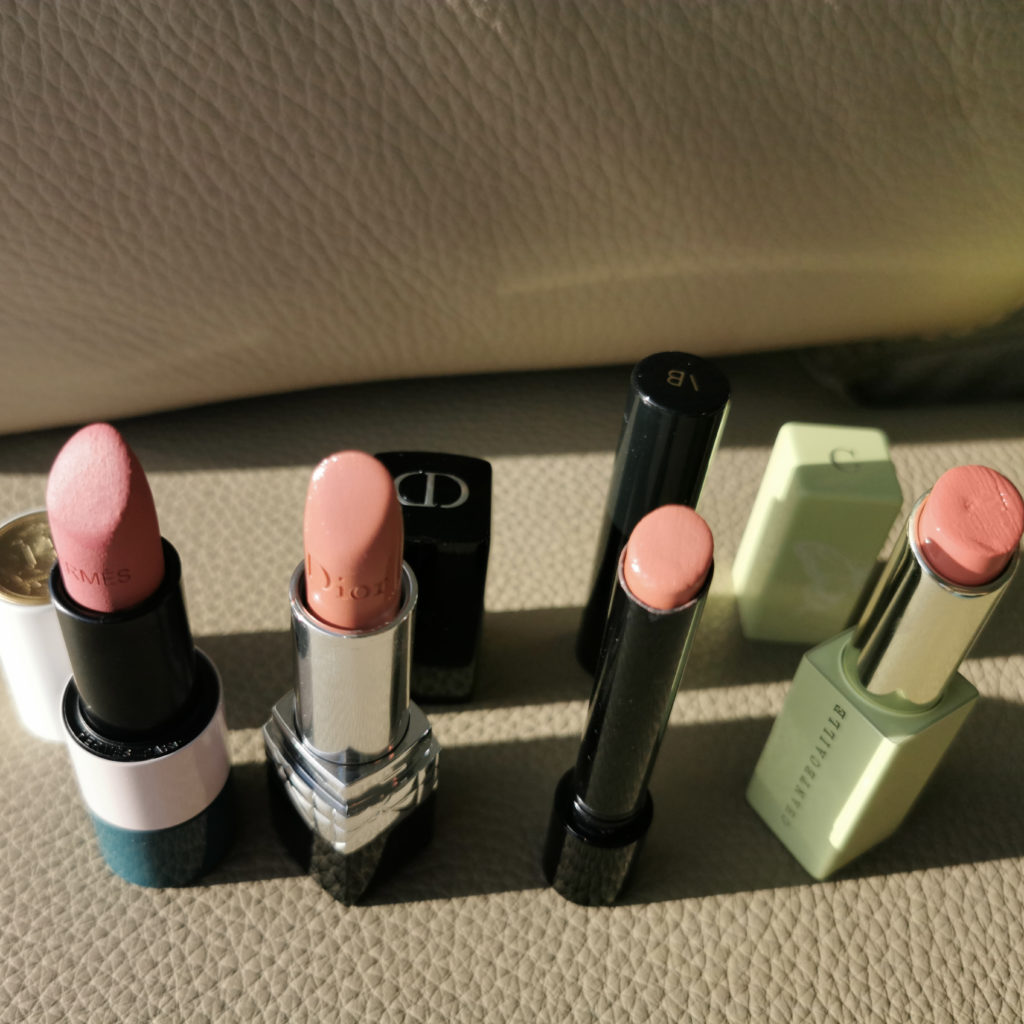 Overall impression
What nude lipstick would I recommend? I do love and use all four of these shades.
If you are looking for lipstick with strong balm properties Chantecaille is the best option. A close dupe for Chantecaille is Lipstick Queen Saint Pinky Nude. It feels slightly thicker on the lips but is equally hydrating and the shade is quite close. it is significantly cheaper, however, the packaging becomes quite bitten if you carry it around a lot.
Victoria Beckham Pout still has this balm effect, but more sheer pigment making it even more versatile. The slim bullet also fits into the tiniest bags and pockets.
Rouge Dior is a good option if you need regular lipstick that is still hydrating. Plus you can buy refills with different colours from now on. This shade is sold out in a lot of places already, but the current range has similar ones to choose from.
Hermès is a good option if you want a pigment that merges with your lip colour and has no extra shine, so it looks very natural. It also wins the packaging competition for me: a stunning refillable design.
Shop the post
You can support my site by visiting the following links (AF) to shop lipsticks mentioned

P.S. Check out my review of another part of the Chantecaille Butterfly collection – Butterfly Eye Quad