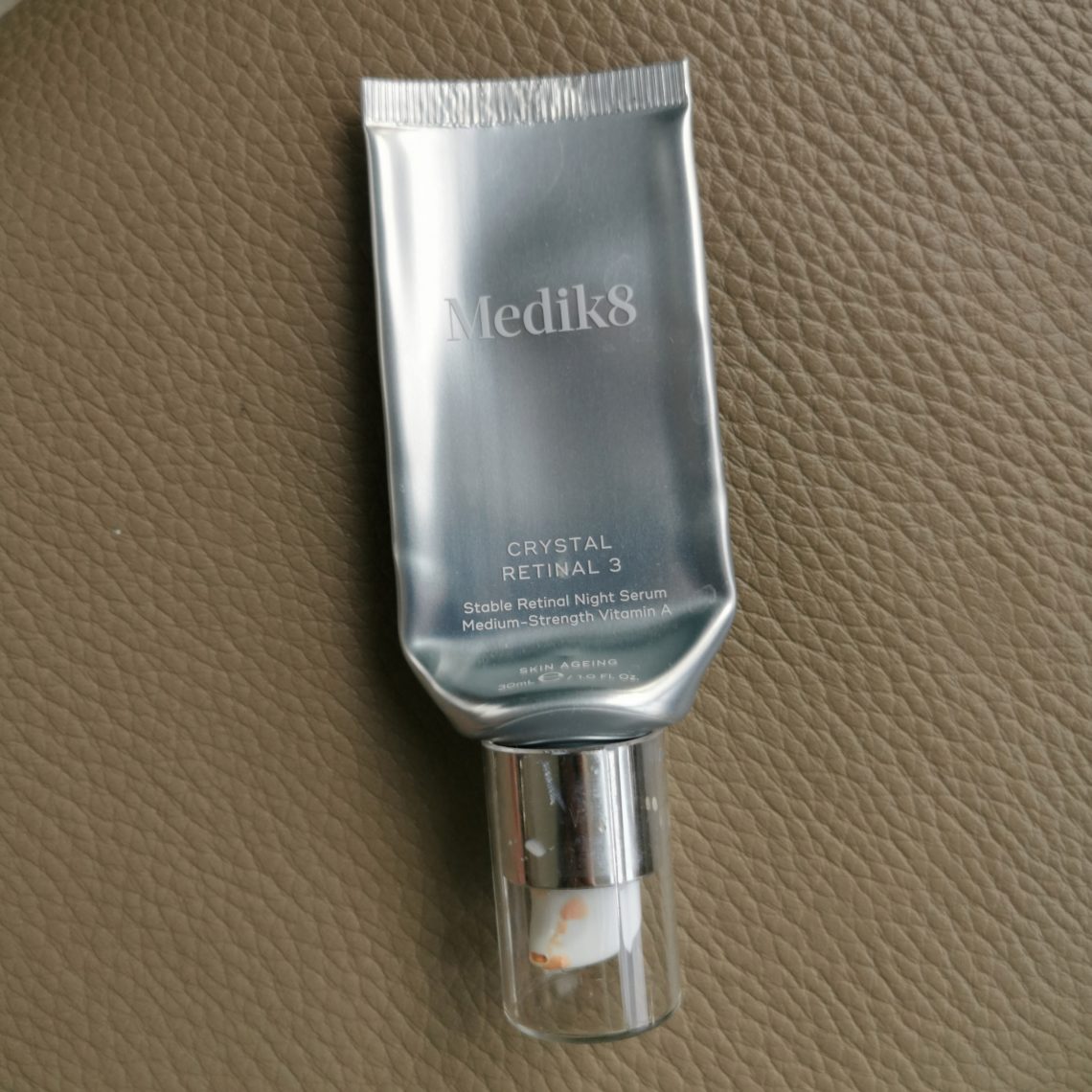 Medik8 retinol: Crystal Retinal 3 Serum review
Medik8 retinol products gained a lot of hype recently making it one of the brands I've been intrigued to try for a long time. It's not only an amount of very positive reviews that caught my attention but also that all the products are no-nonsense and formulated based on scientific research. They have a variety of Vitamin A products and I've decided to start with a serum: Crystal Retinal Serum 3. I have now gone through the whole tube of it, so here are my thoughts.
Disclaimer: this product was purchased by me and all opinions are my own. The site uses affiliate banners and affiliate links (marked AF) which add no extra cost to you if you choose to shop through them. Thank you for supporting the site if you choose to use AF links.
My first order from Medik8
Texture:
is a very light beige-coloured serum that sinks quickly into the skin.

Ingredients:
The main difference with Medik8 Vitamin A products is that they use RetinAl, not RetinOl. Vitamin A goes through some stages before it transforms into retinoic acid to make a difference to skin. Retinal is one step closer to it than Retinol, so you would see the results quicker. It is also less irritant than Retinol. There are 4 different strengths serums in this formula, I've started at 3 (Medium strength), as I've used light retinol products before. There are also 1, 6 and 10 strengths.
Packaging
The serum comes with pump packaging: it makes the product more stable, hygienic and easy to use. It dispenses the product till the last drop.
Fragrance
The serum has a light vanilla scent that is nice and not overwhelming.
Use
I would use about 5-6 pumps each time. It is recommended to start gradually (and that's what I did): you start with twice a week for 2 weeks, then every other night for 2 weeks, then every night. I have noticed increased sensitivity by the end of week four, so continued to use it every other day and after some time it was gone. I've ended up using the serum every other night, as I prefer to alternate it with an acid serum. The tube lasts around 3 months with that schedule.
If you want to see one of my evening routines using Crystal Retinal (AF) click here.

Overall impression
As I've mentioned earlier, I've only tried small strength retinol before. I was ready to go up in strength to see more results but was a bit hesitant because I didn't want to go through irritation and flakiness phase that a lot of users describe. In the end, using Medik8 retinol (AF) I didn't have any which is pretty amazing!
The main result is the reduction of fine lines (my smile lines and forehead are usually a test for this), the skin is more lifted and plump, the skin tone is more even and some pigmentation I have is less noticeable. I must say I use Vitamin C in the morning which also contributes to the last two outcomes. However, the effect is still there even after I've stopped using Vitamin C.
Since finishing Crystal Retinal Serum 3 (AF) I have purchased their more advanced and unique formula: r-Retinoate® which has more strength, less irritation and can be used even in the morning. Looking forward to writing a review on that one soon. Update: check out my review of r-Retinoate here
👍👍👍👍👍/5
Shop the post (AF)